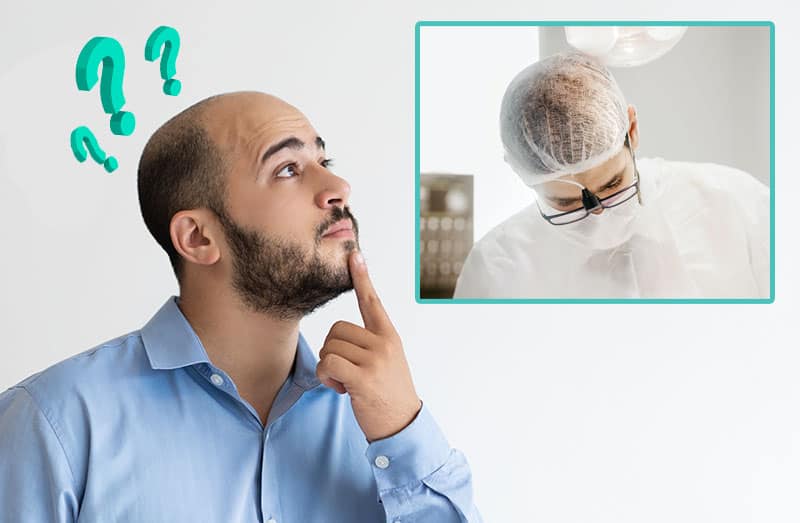 Where Can I Find the Nearest Hair Transplant Doctor in LA?
Where can I find the nearest hair transplant doctor in LA? If you are looking for doctors in the LA county area, you have plenty of great options. Starting with Best Hair Transplant in Redondo beach and exploring the surrounding areas we've compiled a list of the closest hair restoration clinics.
Now you may be asking yourself why we're telling you where you can find our competition. Well, it's simple really. We offer the best value on FUE and FUT hair restoration services in Los Angeles. Because of this fact, we're not worried about telling you where you can find other hair transplant clinics. After all, if you feel like paying more and waiting months for your hair transplant, that's on you. We're here to offer stellar service, convenience, and value. Plus it's not that hard for you to use some "Google-Fu" and find them yourself. However, we're confident you'll make the right choice and choose Best Hair Transplant for your FUE or FUT procedure.
With that said, let's learn more about where you might find the nearest hair transplant doctor below.
Best Hair Transplant:
Address: 1970 S Prospect Ave Suite 2, Redondo Beach, CA 90277
Best Hair Transplant is located in Redondo Beach and has a 5-star rating on google. We offer complimentary consultations that are appointment only. Our chief surgeon is highly skilled and committed to offering hair transplantation at an accessible price. In addition to offering great prices, we offer discounts for cash and cryptocurrency. We offer FUT and FUE hair transplantation, as well as facial hair transplants. Best Hair Transplant also offers LLLT laser cap therapy treatments, including the Capillus RX which is the most powerful laser cap available.
If you're looking for the nearest hair transplant doctor, Best Hair Transplant is a convenient choice for anyone in the greater Los Angeles area.
Bosley Hair Restoration and Transplant
Bosley Hair Restoration and Transplant is located in Beverly Hills, about 22 miles north of Best Hair Transplant. A well-known national chain, Bosley offers both surgical and non-surgical treatment options. For surgical options, they offer FUT, FUE, and eyebrow restoration. As far as non-surgical options they offer finasteride and topical products that address hair loss. They also offer the Bosley Revitalizer laser cap and Scalp Micropigmentation Their surgeons are assistant medical director David P Deutsch MD, FACS, ABHRS, and Mark Oyama, MD.
However, be warned that national chains like Bosley often utilize doctors in training instead of experienced hair transplant surgeons to perform their transplants. While this is not always the case, we feel it's always best to go local. Like many other local businesses, choosing a private practice vs a chain clinic offers you the ability to receive quality transplant surgery from a trained professional with years of experience. After all, who would you rather have working on your head? A person who's dedicated their career to a particular field or a new hire who was looking for a job.
Rawnsley Hair Restoration
Located 20 miles North of Best Hair Transplant in Los Angeles. The Surgeon Dr. Rawnsley specializes in FUE treatments. In addition to hair transplantation, Rawnsley Hair Restoration also offers non-surgical treatments such as medications minoxidil and finasteride. He also offers laser cap therapy.
Samson Hair Restoration
Samson Hair Restoration is located about 30 miles north of Best Hair Transplant in Sherman Oaks, CA. They offer a military discount. Their services include hair transplant, FUE transplant, PRP therapy (Platelet Rich Plasma), and correcting past transplant scars. The doctors are Dr. Fardad Forouzanpour, FACOS, and Dr. Patrick M. Moore MD.
Beverly Hills Hair Restoration
Located 20 miles north of Best Hair Transplant in Beverly Hills. Beverly Hills Hair Restoration offers a wide array of services. Their surgical services include FUT, FUE, Hairline lowering, Eyebrow Restoration, Facial Hair Transplants. When it comes to non-surgical procedures, Beverly Hills Hair Restoration offers Scalp Micropigmentation, and PRP (Platelet Rich Plasma). Dr. John Kahen is the doctor on site.
THE BEST HAIR TRANSPLANTS IN LA
Best Hair Transplant is the best place to schedule your hair transplant in Los Angeles. But don't take our word for it. We suggest learning as much as possible about hair restoration. Do so prior to making a decision on how to address your hair loss. Not every procedure is right for everyone.
At Best Hair Transplant in Redondo Beach, we pride ourselves on helping our patients choose the best procedure for them. Do your homework. Research your hair restoration doctor. After all, not all doctors are equal. For your benefit, ask to see "Before & After" photos.
At Best Hair Transplant, we're proud of our results and happy to provide hair restoration services. Additionally, we're proud to make hair transplants affordable and help you save money on a variety of hair transplants.
To ensure your ease of mind, you can view our customer recommendations HERE. Furthermore, you can also see our Google reviews and Yelp reviews. We can't wait to help you start restoring your lost hair.
YOUR HAIR RESTORATION SOLUTION
Best Hair Transplant
1970 S. Prospect Ave., Suite 2
Redondo Beach, CA 90277
(213) 403-0455