FUE, referred to as Follicular Unit Extraction and more accurately as Follicular Unit Excision, is a valuable hair transplant procedure useful for a variety of circumstances. As we've stated previously in articles such as "Pros and Cons of FUE Transplants" and "Why FUE Needs to Be Redefined for Patients", FUE may be a better choice in specific situations over FUT.
However, many individuals do not realize that FUE is not a better procedure than FUT for every patient every time. Many hair transplant doctors and clinics have created this misconception as a marketing ploy to oversell FUE for many reasons; from FUE being an easier procedure for the office to perform without a professionally trained surgeon, to FUE being a more expensive procedure for the patient and more profitable for the doctor.
FUE Overharvesting
FUE is pushed so much in the transplant industry because clinics can perform the procedure without paying for a qualified doctor. Additionally, they can charge the patient more for a procedure they may not actually need.
All of these reasons are strong enough for why patients should be wary of jumping into an FUE procedure. However, there is an even greater potential risk for patients who get an FUE procedure performed by an untrustworthy doctor. This danger is overharvesting.
Over the years as FUE gains in popularity, Best Hair Transplant has seen an increase in the number of corrective procedures requested by former patients of aggressive doctors suffering from the condition of overharvesting. A number of patients are switching back to FUT. Why? They see it as the best option for maximum density results after being disappointed with the FUE results. Best Hair Transplant wants to discuss the issues presented by overharvesting to better inform patients and prevent more from suffering the effects of overharvesting by unnecessary FUE procedures.
What is Overharvesting?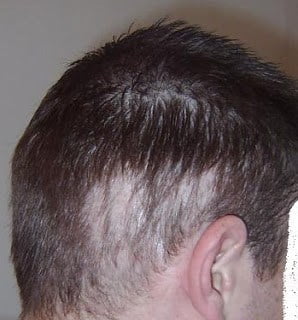 Overharvesting occurs when aggressive FUE procedures are performed either once incorrectly, or multiple times excessively. This can result in visible thin patches of hair in the donor area or worse, such as almost complete donor alopecia. Visible scarring is another potential side effect.
Just the same way that FUE may be recommended if another FUT procedure is not possible to generate the best results, FUT is supposed to be recommended in cases where another FUE procedure would result in the kind of problems caused by overharvesting. Imagine a farmer who you kept excessively harvesting the same land over and over again. Eventually, nothing would grow in that spot and you would find holes in your plot. This is how overharvesting occurs. It can result in unappealing patches of baldness or visible scarring on your scalp.
Why is Overharvesting Common?
Overharvesting essentially means too many grafts. At a higher graft cost due to it being an FUE procedure, that means a bigger bill for the patient than if they were to do an FUT procedure. In the end, the patient pays more money for a procedure that doesn't actually work to their benefit.
Unfortunately, that's only the best-case scenario working with such a clinic; and you are already spending more money than you should on a procedure that won't get you the results you want. The worst-case scenario is a failed procedure altogether. In other words, you're out the time and money. Additionally, your confidence may be even worse following the procedure if it was done for cosmetic reasons.
A professional hair transplant doctor in the greater Los Angeles area will review options for both FUE and FUT procedures. Our doctor will work with you and help you choose the procedure that is right for you.
The Solution is Rarely More FUE
In the case of overharvesting, another FUE procedure is rarely ever the correct course of action. Unless a hair transplant doctor completely botched the procedure, generally the best option is switching to an FUT procedure. However, in some cases, scalp micropigmentation may be needed.
Our staff at Best Hair Transplant is never pushy about selling any hair transplant procedure because we understand that it is a big decision. We are just as committed to performing a quality procedure as you are to be receiving one. There is responsibility on both sides before, during, and after the procedure to ensure a successful transplant. Our dedication can be seen in our Google and Yelp reviews.
Choose Best Hair Transplant
At Best Hair Transplant, we call ourselves the best because of our affordable prices and high quality. We won't just save you money on an FUT or FUE procedure. We may also save you money by recommending a procedure that actually works better for you. Often our patients save two-fold.
In any case, at Best Hair Transplant we choose the right procedure for our patients. In rare cases, that may even mean recommending no procedure or recommending an alternative such as laser hair therapy. Our goal is to make our patients have a successful transplant and for them to be happy with their procedure.
For a free consultation regarding your options, contact us today at 213-403-0455.